Thursday, 26th April 2012 - Last updated on: Thursday, 26th April 2012

Orange madness!
On April 30th we celebrate Queen's Day, a national holiday in the Netherlands. Queen's day is built around the birthday of the Dutch queen. But not the current queen, actually. Our queen Beatrix celebrates her own birthday (January 31st) in a modest way with her family. Beatrix decided at her coronation to keep April 30th as Queen's day. This as a tribute to her mother, Juliana, who's birthday was on April 30th.
Read entire article »
Saturday, 7th April 2012 - Last updated on: Saturday, 7th April 2012

Easter is coming!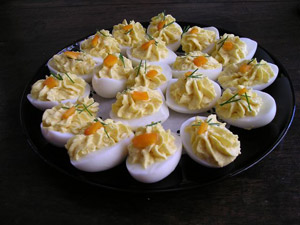 Dutch families are running to the supermarket to collect all their favorite ingredients for the Easter brunch. We celebrate Easter on sunday and monday ("Easter monday"), so there is enough time to eat, drink and being together with family. Of course there are lots of eggs involved; painted, in chocolate or processed into dishes. This recipe of stuffed eggs is a Dutch tradition. I got the recipe from my mother, who got it from her mother. We serve it as a snack on birthday parties or at the easter brunch table.
Read entire article »