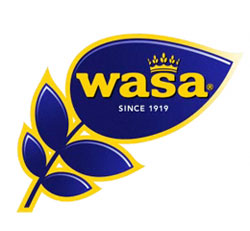 Visit their website »
The people at Wasa strive to be the best producer of crisp bread in the world. In a timespan of only one year people together consume about 60k tons of crips bread.

In Sweden they eat the most crisp bread, on average about 4 kilo per person per year! The biggest markets outside of Sweden are the other Scandinavian countries and Germany, followed by Poland, Holland, France and the United States. But even if you don't find yourself in any of these countries I just mentioned, you can probably still get Wasa crisp bread there.

Wasa is part of parent company Barilla. The Barilla organization has about 18k employees and has a yearly turnover of 4,2 billion Euro's.

History of Barilla
Pietro Barilla had a dream when he opened his small pastry shop in Parma, Italy. This happened in the year 1877. His dream was to provide the people in his neighbourhood with the freshest, most tasty food that people were able to enjoy with family and friends at home. What he didn't know at that time that this was the start of a huge company that 125 years later would be the best selling producer of premium pasta, as well as the premium producer of pasta sauces in Central Europe along with the biggest bakery products in Italy and crisp breads in Scandinavia.