Visit their website »
The history of the Frisian family bakery Hellema begins in 1861 when a 22-year-old Andele Hellema discovered that cakes and pastries were rarely made there in the north of Friesland. In 1996 Hellema was the first company to introduce their still popular Smoeltjes cookies, which were especially made for children. The Smoeltjes are now indispensable and in 2021 they exist for no less than 25 years!
Hellema bakes cookies, biscuits and snacks for the whole family and for any time of the day. At Hellema they can make almost any cookie in the world and facilitate this service in about ninety countries. Hellema is your reliable one-stop shop in the world full of biscuits!
All products of brand sorted by price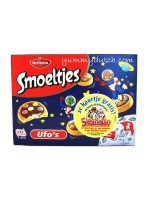 All products of brand sorted by price