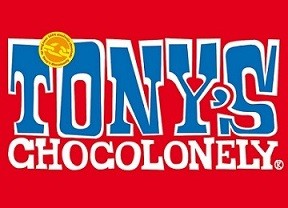 Visit their website »
Tony's Chocolonely was born on a Dutch consumer report show Keuringsdienst van Waarde, which exposes abuses in the food and other industries. Tony's Chocolonely founder Teun van de Keuken was one of the show's lead reporters.

In 2003 Dutch investigative reporter Teun van de Keuken - or Tony, in English (aha…now you know why we're called Tony's!) - makes headlines by taking himself to court. Huh? A year earlier Teun discovered that the world's largest chocolate companies were buying chocolate from cocoa plantations that used child slavery, despite the fact that they signed an international treaty against child slavery. To make this point, Teun eats 17 bars of chocolate on the Dutch TV show Keuringsdienst van Waarde and turns himself in as a "chocolate criminal". By knowingly purchasing an illegally manufactured product, Teun reasons, he is committing a crime. To make a case against himself, Teun needs to find witnesses to testify against him. He heads to Ivory Coast and tracks down 4 former cocoa plantation child slaves. They agree to testify against him on the record. Court cases, even those against one's self, do not happen overnight. Impatient, Teun wants to do something right now. He contacts various chocolate multinationals and asks them to create a slave-free chocolate bar for him. They all ignore him, including Nestlé, sponsor of the new Charlie and the Chocolate Factory movie. So on November 29th 2005 Teun introduces the world's only (making it a very 'lonely'…aha!..) slave-free chocolate bar. The first batch includes 5,000 Fair Trade milk chocolate bars. It isn't enough. He quickly orders a second batch of 13,000 bars! A 100% slave-free chocolate star is born.

Of course we're crazy about chocolate. Chocolate, we mean, made from pure cocoa without any bitter aftertaste. The problem is that pure honest cocoa isn't all that easy to find in a world in which cocoa is treated as just another mindlessly traded global commodity.

We think cocoa is much more precious than that. That's why we set up long-term relationships with reliable and trustworthy cocoa farmers in Ghana and Ivory Coast. We know the farmers' names, we know their cocoa. Buying direct from them is a key step towards 100% slave-free chocolate. Another important step is we never cut corners on sourcing Fair Trade ingredients and organic products. The third step is you.

We've discovered the secret to life is not taking yourself too seriously while at the same time treating everyone else like a king (or queen). When it comes to cocoa farmers, we are very serious about people and their right to earn a fair wage. We call this our Bean to Bar philosophy; it begins with buying cocoa directly from cocoa farmers – establishing a long-term relationship with them and buying their cocoa for a fair price over a long period of time – and it ends with that satisfied post-chocolate smile on your face. From our farmers and suppliers to our fans, our mission is to give people a fair chance to be happy.