De Keukenhof
Monday, 2nd May 2016 - Last updated on: Monday, 2nd May 2016

One of the Netherlands's most incredible spring-attractions:
De Keukenhof!


At the end of every winter, employees of botanical garden de Keukenhof prepare the park for eight weeks of visitors from around the globe.
No less than
seven million
flower bulbs will bloom in these eight weeks, and the park attracts around one million visitors each year. Amazing!
Imagine 7 million hyacinths, daffodils and
tulips
opening up to a warm spring sun in various shapes and colors. A real treat!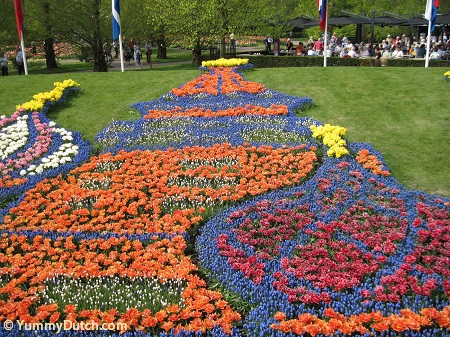 De Keukenhof is located in Lisse, Zuid-Holland, and measures 32 acres.
The season for visiting is short, the park opens its doors at the end of March, and closes at the end of May.
The flowers that are on display are supplied by local growers. For them, Keukenhof is an ideal platform to display their products. For each of the 100 suppliers, a landscape architect makes a design for their flower beds. This process starts in the autumn season of the previous year.
The park opened its doors to the public in 1950. An instant success, in its first year the park welcomed no less than 23600 visitors!
Fun fact: about 75% of the Keukenhof's visitors are foreigners.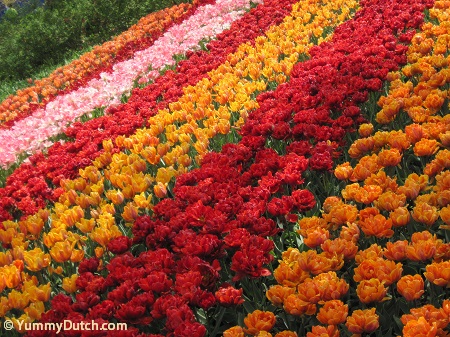 This year Keukenhof opens for the 67
th
time, and 2016's theme is 'Golden Age'. This means that the flower beds will picture typical images with this theme.
History
De Keukenhof's history goes back tot he 15th century, when countess Jacoba van Beieren (1401-1436) used to get fruit and vegetables from the gardens of Teylingen castle. In 1641, castle Keukenhof was built, and the estate grew to 200 acres in size.
Jan David Zocher and his son Louis Paul, landscape architects, re-designed the gardens surrounding the castle in 1857.
That same park, in English-style, remains the base for de Keukenhof to this day.
In 1949 a group of growers and exporters of flower bulbs came up with the idea of using the park for displaying spring flowers. A great success, as we all know!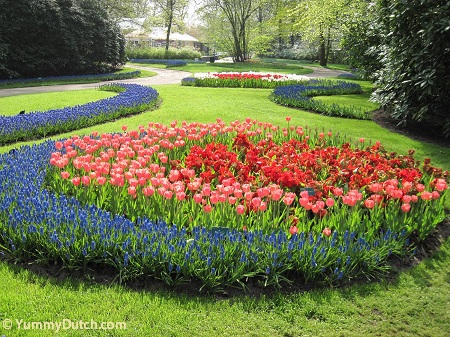 Fun fact: Jan David and Louis Paul Zocher were also responsible for the design of the well known Vondelpark (Amsterdam)
Until the 16th of may, Keukenhof remains open. After that you're going to have to wait for 2017, so be quick if you're planning a visit!
(Sources: header & YouTube link - http://dedurmereizen.be/dagtrips/keukenhof, information: keukenhof.nl, wikipedia, photo's: yummydutch.com)
Tags: keukenhof, tulips, tulpen, bloemen, lisse, spring, amusement, park, attractie, attraction, lente, bloemen, flowers, cultuur, culture