Authentic Dutch Apple Pie
Tuesday, 9th August 2011 - Last updated on: Tuesday, 27th September 2011

Apple Pie - who doesn't love it? It could very well be the most popular pie in the world,.... but to the Dutchies, this pie is like the mother of all pies ;). Here in Holland everyone knows someone who can make the best apple pie in the world and if you have ever been in Holland, you must have noticed the signs outside of café's saying "Koffie en appeltaart - € 4.50". Yes, apple pie in Holland is so popular that bars and café's serve it on their menu's (and often served with sweetened whip cream)! You could say that coffee and apple pie belongs to the traditions of Holland. It is also almost always served on birthdays - and not after dinner as most of you would think, but before! In Holland we take coffee and apple pie on birthdays in the afternoon, after which the beers and wine is served.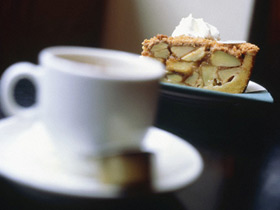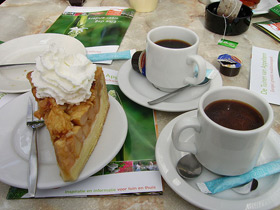 The apple pie in Holland actually looks quite different from the applie pies from other parts of the world. There is plenty of variations on the recipe though. For instance you can make it with cranberries, with lots of cinnamon and sugar, with almonds, with cheese, coconut and ginger, with pieces of biscuits, or even with blue berries. But for today we will stick to the traditional / original Dutch apple pie. It is a variation on the recipe that's printed on the Koopmans package. We made it a bit more sweet by adding vanilla and brown sugar, and a bit more sour by adding some lemon juice. This apple pie will give you a sweet and refreshing taste.
To make one apple pie.
Ingredients:
1kg hard, bit sour apples (goudrenetten or jonagold)
1 pack of Koopmans apple pie mix
175g real dairy butter or margarine
1 egg
50g sugar
75g raisins
2 to 3 tspn kaneel
1 tblspn lemon juice
pinch of salt
1 vanilla sugar sachet
160g brown sugar
Tools:
Tin with diameter of at least 30cm
How to prepare:
Put the raisins in medium warm water to make them soft. Leave them in the water for about 15 minutes, that should be enough for a good nice softness.
Use two knifes to cut the butter into small chunks and mix it through the Koopmans mix, the brown sugar, vanilla sugar and salt. Once you have a crumble style mix, add 2/3 of the egg. Then knead the mix by hand or with a kitchen machine, until you have a good consistent dough. You can put the dough in the fridge if you want.
Peel the apples and cut them into small pieces. 1cm by 1cm or smaller. Then cover all the pieces of apple with the of lemon juice. If you prefer it more sour, you can add more juice. Sprinkle the apple pieces with the cinnamon, and sugar and mix well. Then add the raisins and mix well again.
Grease up the tin with soft butter (margarine or real butter) and then use use 2/3 of the dough to cover the bottom and the sides.
Add the apple filling. Create small strips with the rest of the dough and put them on top of the apple filling, some horizontal, some vertical, creating squares. Cover the strips with the rest of the egg.
Bake the apple pie in a preheated oven for about 60-75 minutes. Electric oven: 180 Celcius or 356 Fahrenheit. Hot air oven: 165 Celcius or 329 Fahrenheit. Gasoven: position 3-4. The apple pie needs to become golden brown. Once fully baked, let it cool off for at least an hour, before you remove the tin shape. Some say that if you leave it in the fridge for two days, it will taste even better. Make sure you finish the apple pie within a week after baking it though.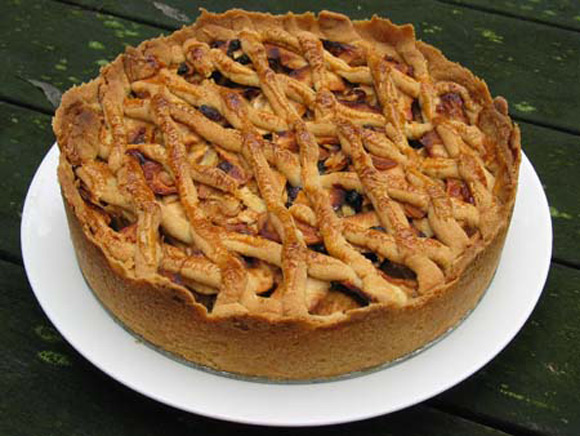 Tags: nederlandse appeltaart, apple pie, authentic dutch, rozijnen, vanille suiker, vanilla sugar, raisins, koopmans appeltaart