Sinterklaas And Dutch Kruidnootjes
Thursday, 18th August 2011 - Last updated on: Friday, 11th November 2011

The Dutch Sinterklaas time is coming in three months already and soon enough the candy that comes along with it, will be in the stores again! Sinterklaas you say? I can hear you think, what are you talking about? Those with Dutch parents or grandparents will most likely know that the celebration of Sinterklaas is a very big tradition in Holland where children are the centre of attention! You can compare it to how Christmas is being celebrated with Santa Claus in the USA, Canada, Australia etc, where all the children are receiving presents. It's just like that, but instead of it being with Christmas, our Sinterklaas is celebrated on December 5th (or sometimes on December 6th) and has literally nothing to do with Christmas.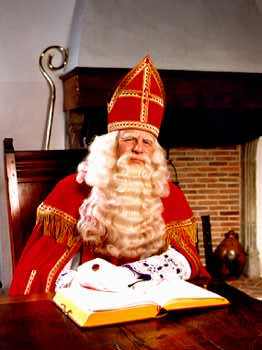 Sinterklaas or officially named Sint-Nicolaas, was declared a Saint in the year 342 AC. He passed away on December 6th, 340. Sint-Nicolaas was known to help others and have a special soft spot for children. In the line of that story, over the centuries, books were given out in Europe where the story of Sint-Nicolaas was told in varies ways. One of the oldest messages of a Sint-Nicolaas celebration stems from 1360. Starting from 1427 another tradition was introduces: placing your shoe near the fireplace, only to find them the next morning filled with special candy. Since then, the singing of Sint-Nicolaas songs, the placing of shoes and the celebration of Sinterklaas was a fact in Holland and Belgium.
There are more similar types of celebrations througout Europe, each one of them slightly different from the other, but in essence the same. It is also stated in the Museum of Immigration in New York on Ellis Island, that the term Santa Claus is actually coming from the Dutch word Sinterklaas - introduced by the early Dutch settlers in New Amsterdam - which is now New York. Santa Claus is the same figure in North America and Australia, as Sinterklaas is in Holland (and other places of Europe). It is the same story, just a different outcome over the centuries. The fat, funny type of character of Santa Claus results from Santa Claus being portrait as a fat Dutch sailor at first. Where as in Holland the Dutch Sinterklaas was portrait as the more serious type. Also, instead of riding on a sleigh, the Dutch Sinterklaas arrives on a steamboat in the port and rides a white horse. Though, in the end both characters have the same morale: naughty children get no candy and sweet and good children do. If you'd like to learn more about this interesting subject, just read more on wikipedia. Search for Sinterklaas and Santa Claus.
In Holland there is a lot of special candy available when Sinterklaas returns. Chocolate letters from A to Z, in white, dark, milk chocolote and more. Marsepein, which is some kind of almond paste, coming in all kinds of shapes, sizes, and combinations with chocolate and sugar. "Taai Taai" is also specific to Sinterklaas and of course the very most popular candy with Sinterklaas are the "kruidnoten" en "pepernoten". These last two items are actually often thrown by the helpers of Sinterklaas, called "Black Pete". Thrown you think? Yes, thrown! It is one of those traditions... It could very well be possible that you are walking in a Dutch mall and Sinterklaas and his helpers are walking around there as well - the helpers will often be throwing kruidnoten en pepernoten around! And if you go and ask them nicely, they will give you a handfull of candy ;). This is what kruidnoten and pepernoten look like: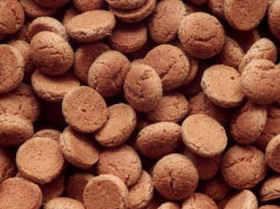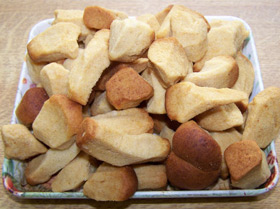 Kruidnootjes Pepernoten
Koopmans is one of those products on our webshop that cannot be missed when thinking about Dutch culture and traditions. Since last year (2010), they have brought out a specific mix to be able to bake your very own "kruidnoten". This product is not available in the stores yet as it will only come when the time is right. (Starting in september). We will be offering this product as well of course and we didn't wanna make you wait with getting prepared already on how to make these delicious kruidnootjes!
To make about 100 kruidnootjes.
Ingredients:
Tools:
How to prepare:
Cover your baking tray with baking paper
Put the mix powder in the bowl and add the water. Use 1 sachet for about 50 kruidnootjes.
Knead the mix by hand, or use a machine into a good looking dough.
Put flower on the kitchen counter and roll out the dough into 8 similar sized pieces. Then seperate each roll into 7 chunks. These will be the kruidnootjes.
Roll the dough in your handpalms, to create little balls.
Put the little balls on the baking tray with about 3 to 5 cm's of space in between.
Bake the balls for about 10 minutes. Electric oven: 175 Celcius or 347 Fahrenheit. Hot air oven: 160 Celcius or 320 Fahrenheit. Gasoven: position 3-4. Make sure the bottom of the balls do not turn black.
After baking them, you should remove them immediatly from the tray (just remove the entire paper with everything on it) and let it cool off.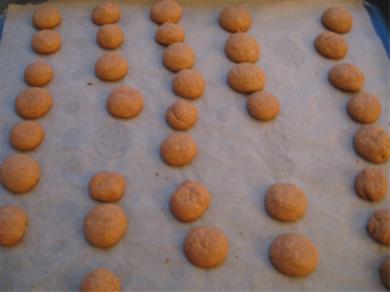 Happy Sinterklaas celebration!
Tags: sinterklaas, kruidnootjes, koopmans