Traditional Poffertjes
Wednesday, 6th July 2011 - Last updated on: Monday, 18th July 2011

One of the most famous typical dutch food products must be the legendary "poffertjes"! They are truly authentic to Holland and as much authentic as they are, they are good as well. If you are wondering what they are: small puffy dollar sized pancakes, which are usually consumed with a bit of real (dairy) butter and lots of icing sugar (or also called powdered sugar) or even with syrup or fruits like strawberries. Poffertjes are a real delicacy and are usually offered by stands on festivals or fairs. When they are offered on festivals and such, they bake them on rather large plates, like this: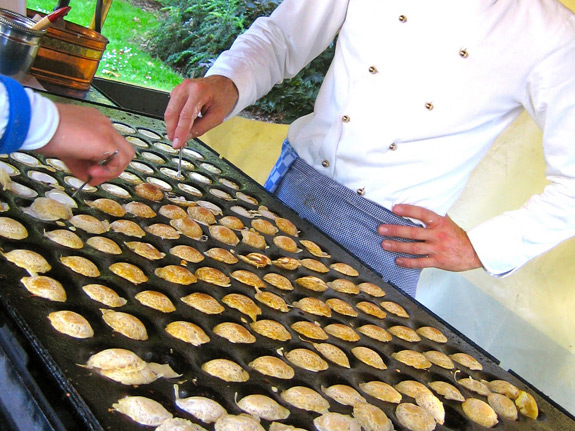 However, if you want to make them at home you have the choice out of different types of (smaller) pans. The original authentic pans are made from heavy cast iron, but nowadays you get a lot more lighter versions as well as different electric types of pans equipped with a strong teflon layer.
For todays recipe we offer the authentic one, but you can easily variate yourself with fruits, raisins, peanuts or even dried fruits etc. More about that later.
First of all here are the ingredients
How to prepare:
For the entire pack of poffertjes mix, you just add 800 ml of milk in a big bowl, while stirring in the poffertjes mix. Slowly stir this to a smooth mix, without any chunks. Then add the eggs and the oil and keep stirring it to make sure the mix is as smooth as possible. In the meantime you can already heat up your pan. If you are using a cast iron pan, it is important that the pan becomes very hot. If you use an electric one, or a light weight equipped with teflon, it is less vital, but the poffertjes tend to stick a bit to the cast iron pan, so it needs to be hot. With a cooking brush put some oil into each little hole of the pan, making it properly wet. Once the pan is on temperature and the oil is hot, use a vial filled with your poffertjes mix to add a bit of the mix into each hole. They tend to inflate a bit so don't make them too full. It is ok to put down the heat a bit once they are in there. (Just keep an eye on them not burning really, that's all.)
After a few minutes, when the top of each poffertje is almost dried up, use a knife and fork to turn the poffertjes around. Leave them upside down for a little bit. In the meantime you can put a chunk of 2 by 2 cm of dairy butter on your plate. When the poffertjes are cooked (dried up completely) you can remove them out of the pan and place them on top or on the side of your butter. The easiest way to remove them out of the pan is by using a fork and just sticking it in the middle of the poffertje, while doing that for 3 or 4 in a row. However, if you are using a teflon pan, you may wanna be a bit more gentle ;). Once they are on your place you throw a bit of icing sugar over the poffertjes and there you go! A typical dutch poffertjes meal! Variate by adding whipcream and/or strawberries. In the end it should like this: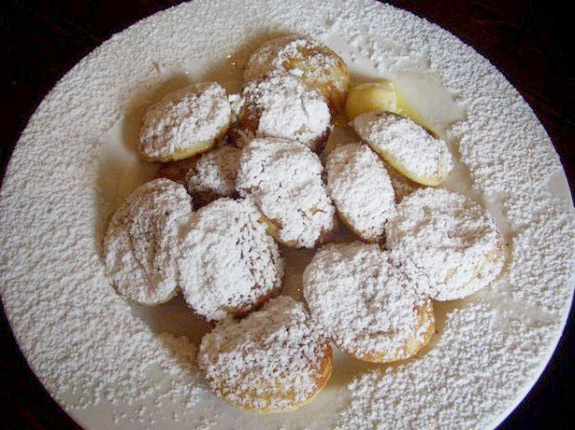 If you want to do something completely different and special, you can also add raisins, nuts, dried fruits or other goodies inside the poffertjes. Just poor only half of the total amount in the little hole in the pan, then add your raisin and add the second over top. That way you will have a very special poffertje!
Tags: poedersuiker, powdered sugar, poffertjes, delicacy, dollar pancakes