Senseo, A Dutch Innovation
Monday, 21st May 2012 - Last updated on: Monday, 21st May 2012

Senseo: a Dutch innovation in coffee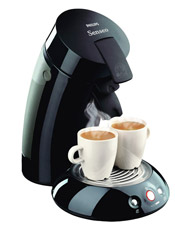 The Senseo coffee machine has been a huge innovation in brewing coffee. The production idea was a joint effort between Philips and Sara Lee (the parent company of Douwe Egberts). They launced the Senseo in 2001. The product has taken Europe by storm, surpassing all expectations. The Senseo was originally introduced in Holland and by 2005 it had already been sold 10 million times throughout 9 different countries. After it got introduced in Holland, the Senseo also became available in Belgium, France, Germany, Austria, Denmark, UK, USA and Australia. At first the coffee pods itself were patented by Philips and Douwe Egberts, but in 2004 a judge ruled that other coffee producers were allowed to produce the pods as well. Immediately all competetive coffee producers started making them too.
Black and ugly
Traditionally Dutchies brew filter coffee. A big pot, which takes a while to fill up, drop by drop. This does come in handy when you have a party and want to brew 12 cups of coffee at once. The downside is that the pot can stay warm on the heating unit and turn into something that's very black, ugly and disgusting. But not all people used to think that way. In the times that people had to turn every penny (a dutch saying literally translated "ieder dubbeltje moeten omdraaien"), people used to reheat their coffee in the evening when there was still some coffee left in the pot from that morning.
Creamy layer
Well, you don't have to do that again if you use the Senseo :). You can make one or two cups at the same time, using the specially designed coffee pods. The machine gives an extra creamy layer on top, so you get an espresso kind of feeling. They come in various flavours, which are of course sold in the Yummy Dutch webshop.

Give it a try! And eat a cookie with it, as we would do!
Written bij DelicaTessa
Tags: senseo, coffee pods, coffee pads, dutch innovation