Offline Groceries Shopping
Monday, 7th May 2012 - Last updated on: Monday, 7th May 2012

Offline groceries shopping
The biggest supermarket in the Netherlands, Albert Heijn, celebrates his 125th birthday this year. Albert Heijn was founded In the year 1887. In that year a man called Albert Heijn, at age 21, buys his first shop in the city Oostzaan from his dad. His motto was to supply groceries to all people, rich or poor. In 1895 he opens his second shop, this time in Purmerend. Not long after that they were baking their own cookies and burning their own coffee. With a wide range of products, it was the first real supermarket in the Netherlands! Nowadays there are 856 supermarkets, all over the country.
We do it our way, the cheap way
The Dutch have their own way of doing groceries shopping. We bring our own bags for example. No people available to help us pack our groceries, we like to do that ourselves! And we love to get discounts and savings stamps. The average household has different booklets in their kitchen drawers to collect all the stamps. The brand Douwe Egberts is very famous for their savings stamps, they even have their own shops where you can exchange your stamps for gifts.
Jordanese recipe for meatballs
In the special birtyday edition of the Albert Heijn magazine, called Allerhande, I found this recipe for meatballs. It's not the traditional recipe, that my grandmother would have used. But it's the Jordanese version; the Jordaan is a famous district of Amsterdam. I'll tell you all about it later this year in a new blogpost.
75 grams of butter
1 eschalot, finely diced
50 milliliter of milk
100 grams of small shrimps
400 grams of minced meat (half pork, half beef)
1 egg
a touch of nutmeg
50 grams of flower
Heat 25 g butter in a frying pan and fry the eschalots for 3 minutes. Remove the eschalots from the pan. Soak the bread in the milk. Squeeze a little and mix in a bowl with the eschalots, shrimp, minced meat and egg. Add the nutmeg, pepper and salt generously. Make 8 balls of meat with wet hands and roll them in flour. Heat 50 g butter in the same frying pan and fry them shortly on all sides over high heat. Reduce heat to low and cook in 20 minutes or until tender. Turn regularly.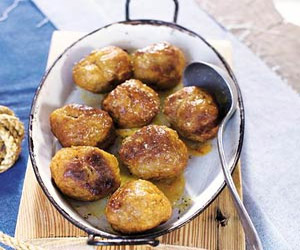 Take a look at the Albert Heijn page on Yummy Dutch for more information about Albert Heijn, and all the Yummy Dutch products of Albert Heijn, like mergpijpjes or stroopkoeken.
Written bij DelicaTessa
Tags: albert heijn 125yr, meatballs, mergpijpjes, stroopkoeken