Borstplaat
Tuesday, 27th November 2012 - Last updated on: Saturday, 8th December 2012

Borstplaat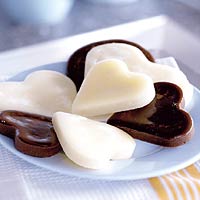 Typical Dutch Sinterklaas delicacies are ofcourse kruidnoten and chocolate letters. But here is a receipe for something delicious you can make at home. It's called Borstplaat, a sugar candy that is really popular in Holland. Specialised bakeries produce a wide range of borstplaat figures this season. All kinds of animals, Sinterklaas himself of course, hearts. It makes a really pretty picture when you go shopping this season. So try it at home!
1 kilogram sugar (the regular granulated type)
125 milliliters cream
175 milliliters milk
20 grams butter
Preparation: Melt the sugar slowly in a pan. Be careful, don't burn it! When it gets liquid, you add the other ingredients. Use a wooden spoon for this. Cook it for about 5 minutes. The mixture should get 'sticky'. My grandma would say 'when it becomes woolly'. That's the moment when the mixture foams: it gets thicker and sticks to the pan. If you poor it, it becomes a thread. Cover a baking tin with some baking paper and poor the mixture in. Let it dry for a while, so you can cut it.
Variations:
Add cacao powder to produce brown colored Borstplaat.
Add vanilla to add a nice vanilla taste to it.
Written bij DelicaTessa
Tags: sinterklaas, sugar, borstplaat