Saturday, 24th December 2011 - Last updated on: Saturday, 24th December 2011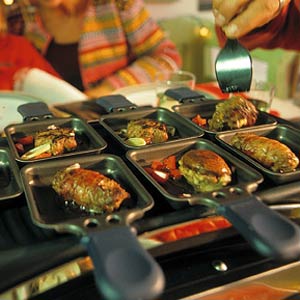 What do the Dutch eat with Christmas?
Last time we wrote about how Santa came to the Netherlands, but now we'll write a bit more about what the Dutch are eating during Christmas. Christmas in the Netherlands is celebrated two days long, on December 25th and December 26th. Traditionally both days are dedicated to spend with one side of the family, so one day the womans parents and one day the men's parents. However, since a lot of couples are seperated nowadays, people are often celebrating Christmas for three of even more days! Christmas eve is scheduled in and sometimes also "Third Christmas day", December 27th. You wonder, Christmas Eve is scheduled in? Yes, in Holland traditionally people are Christian (Protestant and Catholic mostly) and spend Christmas Eve in church, at the "night mass". Once out of church the clock ticks midnight, and so it is Christmas. Families will go home and enjoy a "breakfast" with each other with all kinds of luxurious breads, tea, chocolates and so on. But with the decrease of people going to church and the need for more evenings, Christmas Eve is now also used for families who have dinners and unpack their presents. (Remember the boomeranging back from our previous post?)
Read entire article »
Monday, 12th December 2011 - Last updated on: Monday, 12th December 2011

Christmas in the Netherlands
Now that Sinterklaas took his steamship back to his summer residency in Spain, people in the Netherlands are ready for the christmas season. It's not done to set up the tree before Sinterklaas has left the country, so you can say that there is an explosion of Christmas sentiment right now. People are decorating their trees, making dinerplans and drinking hot chocolate to go with it.
Read entire article »
Sunday, 4th December 2011 - Last updated on: Monday, 12th December 2011

It's Sinterklaas his birthday!
Earlier we've told you all about kruidnoten, and why Dutch children put shoes in front of the fireplace. In the mean time December 5th, Sinterklaas' eve (his birthday), has been approaching very rapidly. The shopping malls in the Netherlands are packed with people right now, who are buying the last presents, kruidnoten, and other Sinterklaas delicacies. And the children can't wait to be visited by his holiness and his two 'zwarte pieten'.
Read entire article »